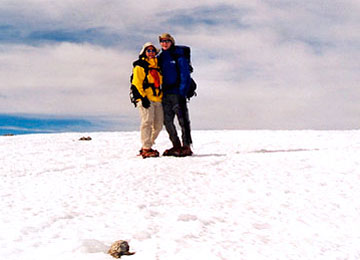 On a clear day in the winter, I can see Mount Baldy from the Caltech campus. If we are lucky, it looms over the rest of the San Gabriel mountains with a white mantle of snow and ice. It's a beautiful sight and it beckons to me. It had been calling me for a week despite all of the reports of hikers dying on the icy mountains locally. Jeremy and I packed for any conditions and set off Sunday morning for the trailhead. We drove through the burn areas from October 2003 up to Manker Flats and started hiking the fire road at 8 am. It was chilly, but the road was fast. We arrived at the notch around 9:30 and took a break behind the ski resort for food and water. Then we continued in the direction of Baldy, winding through ski runs that were devoid of snow. Once we arrived at the section of Devil's Backbone, drifts of snow lingered on the ridge deceptively sitting atop sheets of ice from many days of warm temperatures alternating with freezing nights. We changed from our trail runners to our boots.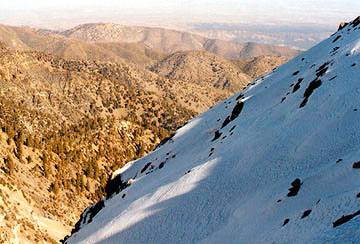 The dropoffs on either side of the backbone did not look that bad, except on the north side where a continuous glaze of ice looked like a fast and treacherous way down. We got our axes out. Once around the south side of Little Baldy we emerged at the saddlepoint that leads to Mount Baldy. There was a stiff cold wind that blasted us. Three japanese men whom we had seen at the notch were coming down from Baldy in the distance. The old snow was icy and we put on crampons for safer travel. We encountered the first of the group and he told us we were close to Baldy. He said, "It's too much icy, we could not go. You are close." He lowered his head into the wind and forged on down. We could see where the trail contoured around the mountain. It was getting cloudy, so we made a beeline for what we thought was the summit.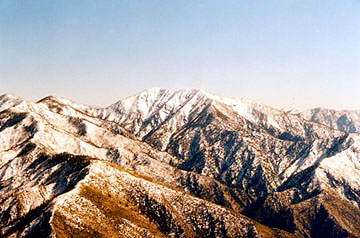 There was a false summit, but the final destination was only a few minutes beyond. We had great views all around, but heavy moisture had moved into the San Gabriels and San Bernadinos, so we didn't linger long. To the northwest, we could see Baden-Powell - the second highest peak in the San Gabriels (Baldy being the highest) and the ideas started turning in my head... We returned the way we came and encountered one other fellow just below the notch who was going to hike Baldy. He didn't have an axe, but had crampons. It was 3:00 and a winter storm was coming in the next day. Getting to Baldy without crampons would be dangerous if not impossible, but not having an ice axe in case you fell would be pure stupidity.