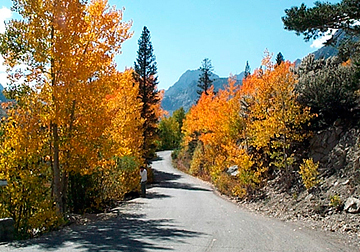 Jeremy and I were planning to backpack to Dusy Basin to enjoy the fall colors sometime in mid-October when I spoke to my friend, Rowena, and discovered the colors were already at peak! We decided to bump the trip up a few weeks. As luck would have it, we both came down with colds. So we ditched backpacking, booked the last motel room in Lone Pine and brought the pup along for a dayhike in the national forest.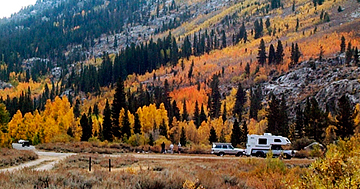 Hopped up on Dayquil and other good drugs, we drove up to the trailhead for Bishop Pass. Pockets of red amid a sea of mostly yellow and green leaves teased us along the road. The elevation had a remarkable way of making our colds seem worse. Kaweah, on the other hand, was in fine form. On our way up the trail we passed fishermen and hikers. As we neared Long Lake, we spotted a fly fisherman gracefully casting into the lake. We moved on up the lake so as not to disturb the fish and allowed Miss Bad Dog off the leash for a turn about the lake.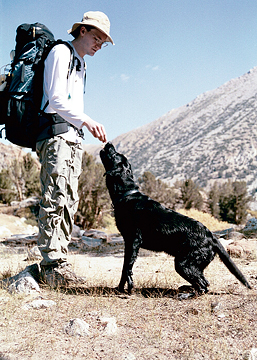 Too congested to continue up, we agreed to head back and drive around to see more foliage. We stopped along Bishop Creek and walked around admiring those wading about looking for the perfect fishing spot. Jeremy and Kaweah got very excited when they could see fish (trout) swimming in the creek.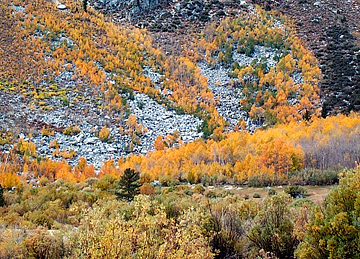 We drove up Sabrina Lake Road and walked to the dam for a looksee. Our colds were getting worse (big surprise) and we decided to pack up and go home. We'll get to Dusy Basin next year, but it was nice to see the fall colors and let Kaweah go for a dip in the Sierra.