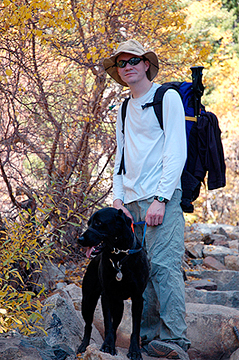 We drove up to Big Pine Creek campground Friday evening with Kaweah. After experiencing one too many shoving matches with the dog in our smaller tents, we brought our cavernous expedition tent since we were car camping (a true luxury). Despite setting up a special bed for Kaweah on one end of the tent, she played Goldilocks and settled onto our sleeping bags.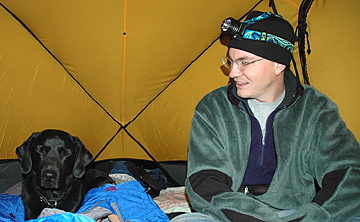 We got an early start, but what I didn't realize was how much longer the hike would take us a) with Kaweah and b) while shooting the fall colors. It started off chilly, but warmed up nicely under the sun. At Second Lake, we hiked down to the lake shore and let Kaweah go for multiple swims. Our original plan was to hike to the base of the Palisade glacier. Because it was getting late, we passed the turn off and continued the Big Pine Lakes loop.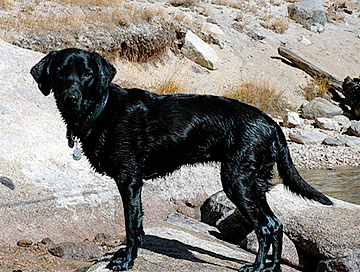 On the way back, we stopped for more pictures and around mile 10, Kaweah decided to really stop and lie down. She only does this when she's pooped. She was pooped. We coaxed her on for the last two miles. The air was cooling and we hiked quickly, knowing that a storm was due in the Sierra that night. Kaweah slept most of the way home and didn't notice the storm clouds gathering overhead. We didn't know we would return that way again the next weekend to enjoy Mammoth's early opening of the mountain.