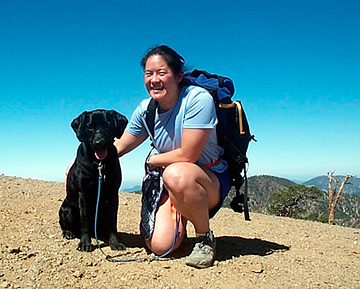 We wanted to try this hike in summer. We figured it would be a nice cool hike thanks to the shade of trees and the northern ascent. It was quite warm when we started, and the trail was really an eastern ascent in the full glare of the sun. Still, the trees were welcome shade and the trail was a lot faster than the last time we went up in February.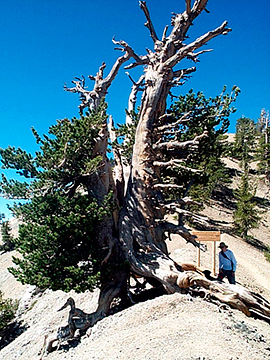 Jeremy counted 42 switchbacks. It was dry as a bone. The trail is well-maintained and climbs quickly to the summit. Switchbacking swings wide in some places. There's a nice bench at switchback 6. Near the ridge to the summit, there were two small snowfields across the trail. Kaweah had a blast digging and rubbing her face all over the cold snow. I finally got to take a picture of the Wally Waldron Tree, which I didn't get last time because the winds were so strong and the ice was slick.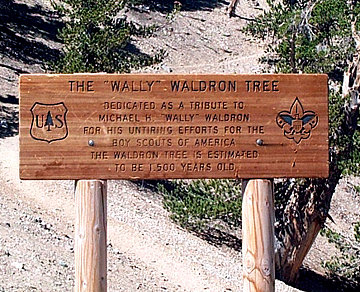 We got to the summit in an hour and 35 minutes. There was a thick marine layer in the Los Angeles basin, and so we were greeted by a wonderful cool breeze. We sat in the shade of a large pine and ate snacks while admiring our views of the San Gabriel front range (including Mount Wilson and her adornment of antennae). The way down was quick, until... Kaweah had a blow out. Actually, she had two. We hadn't taken her on many hikes in May due to family emergencies, and so she had lost those good calluses. She started to walk slowly and we thought she was thirsty. When we stopped to give her water, she would lay down on the trail - something she had only done once before (on the Mount Wilson trail in 108 degree heat: a hike that gave Labor Day a whole new meaning). We took a look at her paws and saw a blister on each paw had been torn open by the sharp rocks. We stuck some band-aids on, which lasted another 1/4 mile until the pup said no more. Jeremy hiked out with Kaweah on his shoulders in the fireman's carry. He wouldn't stop long enough to let me take a picture, but she looked awfully cute and happy. It was only 1/2 mile out.