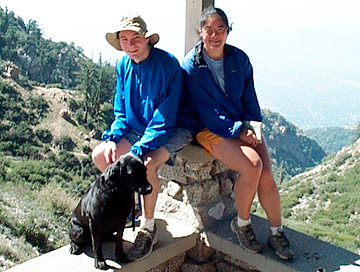 Early spring is my favorite season in the San Gabriel front range. The hills are green and wildflowers bloom anywhere they can, and there is usually the flow of water in the canyons and arroyos. Temperatures are comfortable and sometimes when you hike right after a rain, or on a particularly breezy day, you can see the ocean and all of the Los Angeles basin.
We did this trip as a last minute decision because Chantry Flats was closed due to the fire last year. From the north end of Lake Avenue, we hiked the Sam Merrill Trail up to Echo Mountain. The trail was green and shaded. Recent rains kept dust to a minimum and the dog had a blast. From Echo Mountain we took Castle Canyon up to Inspiration Point. In contrast to the heavy traffic encountered on the way to Echo Mountain, we saw one person on the Castle Canyon trail (coming down). The first mile of the CC trail was overgrown, but the second mile was clear and climbed the headwall of the canyon leading right up to Inspiration Point. We met a nice guy who took our photo while the dog whined to share some other guy's snack. From here you can see a good deal of the front range and Mount Wilson looms close by.
We returned to Echo Mountain via the Sam Merrill trail which goes down the ridge to the west and is more exposed than Castle Canyon, but considerably less overgrown. Plenty of people getting to Echo Mountain by then and shouting "ECHO!!!" Some things never change. From Echo Mountain down to the car it was quick work until we came across a baby rattlesnake. It took its time moving off the trail, but it was beautifully marked and we admired its rattle from afar!