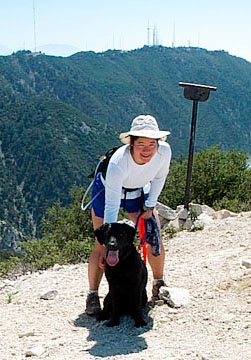 There's something to be said for walking out your front door and walking right up a peak. Our current residence is nestled up against the foothills of the San Gabriel Mountains and we made a promise to ourselves and our dog that we would make the most of it. Here I am with a happy Kaweah on Mount Lowe with Mount Wilson in the background.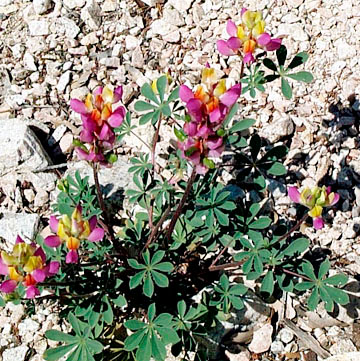 The morning began overcast and cool. The weather reports predicted a heavy marine layer, so we figured this would be ideal to take the pup for a longer hike. Out the front door, we hiked up to Echo Mountain - encountering some of the regulars on the way. We rose into the clouds and the air temperature got cooler. Continuing on the Sam Merrill trail past Echo Mountain, it began to mist and drizzle. The trail was full of wildflowers and lots of vegetation to wade through. As we approached the ridge leading to Inspiration Point, we began to climb out of the clouds. Jeremy freed a baby rattlesnake that had been pinned by a rock on the trail. Out in the sunshine at last, we noticed some lovely two-toned lupine blooming on the fire road.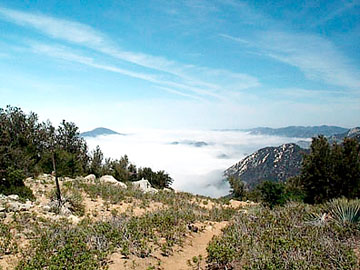 After watering the dog, we continued up the Mount Lowe East Trail which ascends quickly through oak and scrub then winds around the mountain to the back side. It was getting hot! We finally got to the summit and marveled at the view of the entire LA basin socked in by the marine layer. Here's the view as we descended via the Mount Lowe West Trail (which we like better).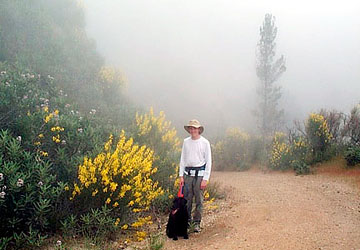 Once we arrived at the fire road, we followed it down instead of the Sam Merrill trail. We welcomed the shade and were eventually engulfed in the clouds. Here is an example of the beautiful wildflowers blooming in the mist. We turned off on the Sam Merrill connector to Echo Mountain and then continued down to the house. Most of the folks on the trail had no idea how gorgeous and sunny it was just a few thousand feet higher.