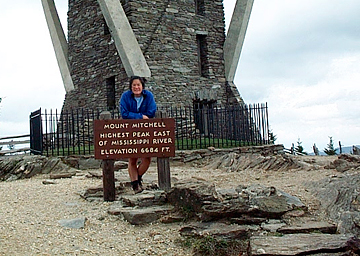 We were in the town of Flat Rock, North Carolina, for Emily's wedding in April 2002. Since the wedding didn't begin until 5 pm, we figured we would do a hike in the nearby Blue Ridge Mountains before the ceremony started. Despite waking up super early (and that was hard because there was some partying the night before at the rehearsal dinner), we managed to lose time by losing ourselves on the Blue Ridge Parkway - which was lovely when the sun finally rose. We eventually got started at 7:30 am and walked from the parking lot across a nice bridge past some picnic grounds to the trailhead.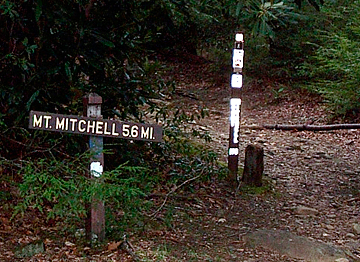 The day was overcast and cool. We found the trail to be soft underfoot and very well-maintained so that travel was easy and pleasant. The abundance of trees (giant rhododendron, pines) was a big change from most hikes we had done before. Unfortunately, we noticed a terrible blight that had attacked many of the trees on the way up to Mount Mitchell, leaving them without leaves and looking sad. There were also plenty of places where the trail would wind in and out of beautiful bowers like the one Jeremy is standing in below.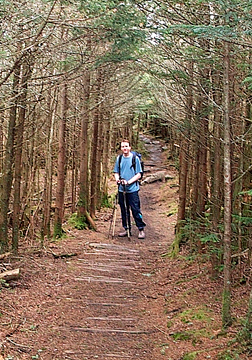 We made good time and reached the summit by 10:45 am and stopped for some snacks and pictures of the awesome views from the top of the tower. The fellow the mountain is named for (Mitchell) is buried in the fenced area behind me in the picture. That wigged me out just a little bit. We headed down as the air temperature warmed and the sun peeked through the clouds. Eventually, we encountered lots of hikers coming up in the last mile before the trailhead when it began to feel hot and slightly oppressive (well, it's the south - humidity is no stranger here). We hiked out at 1:45 pm and rushed back to town to wash up and get ready to see Emily and Greg get married. Awesome day.