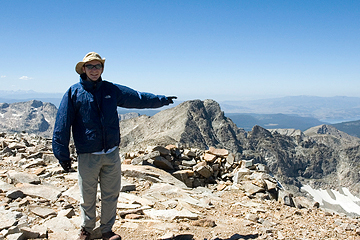 Having scoped out the route from Pawnee Peak a few days earlier, we decided to try a loop hike from Mitchell Creek trailhead that would take us up to Paiute Peak, across the ridge to Mount Audubon, and back down to the trailhead. Most of the time was spent on the cross country portions (the trail ends at Blue Lake and picks up again at the base of Audubon), but the weather was on our side.

We started at the Mitchel Creek trailhead at 6 am and hiked the pleasant trail to Blue Lake in 1:05. From Blue Lake we followed a small trail to the western end and then picked our way up to the unofficially named Little Blue Lake basin, about 500 feet above Blue Lake. We veered to the right of the outcrop rather than to the left - preferring rock scrambling to dirt scrambling. From the shores of Little Blue Lake we aimed for the ridge to the west and followed the ridge up to the base of the chute leading to Paiute. The chute climbs about 1000+ feet in very little horizontal distance. It is mostly loose rock and dirt. We hugged to the right of the chute where outcrops of rock were easier for us to navigate. On the way up, we caught terrific views of the ridge between Paiute and Mount Toll and then Indian Peaks beyond.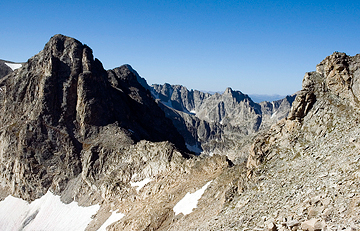 Of course, there is always a false summit before you get to true summit. Jeremy did a fine job of route finding. We walked around on top looking at views and signing the register. This was actually the eastern summit of Paiute Peak, the western summit looking like something we didn't want to tackle considering we weren't even half done.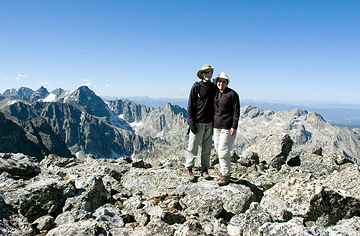 After a short break and photos, we set off for Mount Audubon to the east. Instead of following the ridge directly down, we skirted to the south of the ridge and traversed below the peak to get to a less steep section.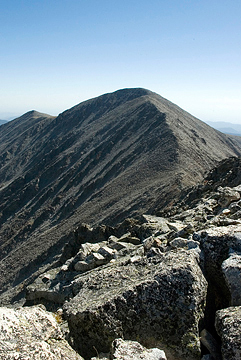 I personally hate to down climb, but we dropped down to the saddle at 12,600 where there is a chute you can take back down to Little Blue Lake Basin. Had there been snow or ice, I would have considered it. However, the thought of going back up to Audubon via the ridge and then out on a trail I knew, was more appealing. Most of the cross country was between class 2 and 3. The ridge got easier as we got closer to Audubon and we skirted many of the bumps on the ridge to avoid wasting our energy. It also broadens nicely although the wind kicked up from time to time. I would not want to do this ridge in a lightning storm. We got to Audubon and took some pictures, ate a snack, then made a quick and footsore 4-mile exit back to the car.