It was on a roadtrip up the west coast in 1993 after graduating from Caltech that I discovered California poppies growing on the roadsides in Washington State. I fell in love with the brilliant, yet simple wildflower. When I learned of the Poppy Reserve in Antelope Valley in 1996, I had already missed the bloom. I spent the next six years in Ithaca, New York, only seeing poppies in calendars and occasionally during a backpack back west. This year the rains held promise for a good bloom and we chanced an early visit to the reserve. Spectacular!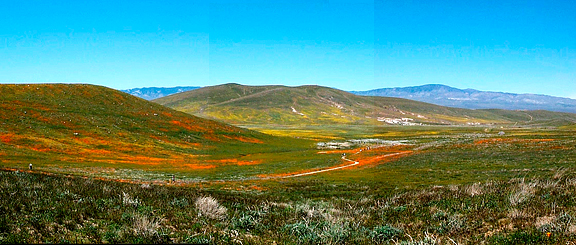 We drove up California Highway 14 to the backside of the San Gabriel Mountains. On our way, we passed patches of bright orange poppies, purple flowers (lupine or perhaps phacelia?), and yellow flowers on hillsides, roadcuts and crags. On the recommendation of my officemate, we drove Elizabeth Lake Road from the 14 to the 138. This pleasant road travels the valley where the San Andreas Fault runs. Lots of hillside wildflower colors! When we got to Lancaster Road, we headed back east toward the reserve. The patches of orange got bigger and more frequent along the roadside fields. There was a line to get into the reserve ($4 per vehicle) and people clustered around the visitor center, bathrooms, and nearby trails.

The reserve was considered to be in early bloom with patches of poppies. The combination of rainfall, timing of rainfall, and mild temperatures all contributed to the good showing so far. The previous year was the driest on record and there were few if any poppies.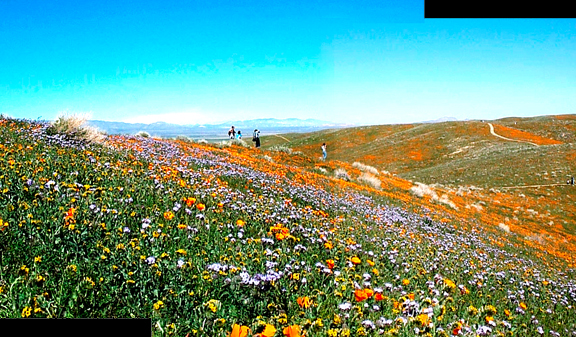 The biggest treat was to see poppies mingling with other wildflowers like the hillside below with purple lacy phacelia, california poppies, and yellow fiddleneck.

We couldn't even imagine what the reserve must look like during full bloom on exceptional years. We experienced "orange-out" just walking the trails.

It didn't take much to get away from the yammering crowds. Jeremy sits at Antelope Butte.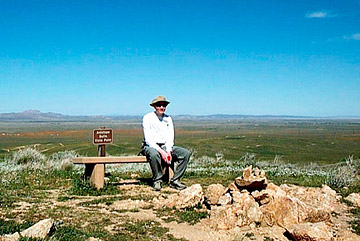 Here, I pause for a photo in the relentless winds. The poppies began furling up more in the afternoon as the winds grew stronger. Still, they danced and danced like happy little flowers.