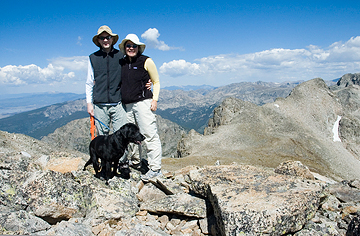 Our initial plan was to hike up to Pawnee Pass. We got to Lake Isabelle in 45 minutes and then above the Lake, I started to get stomach cramps (what happens when the lactose intolerant dare dabble in dairy and then climb high).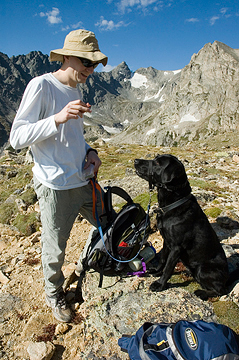 We took a short break at the bench below Shoshoni Peak. The snowfields were pretty much gone from the trail by now. We reached the pass in 2:20, at which point, I started to feel better. I asked Jeremy if he wanted to hike up to a saddle on the north with me. So we ventured overland to the saddle where I took some pictures while Jeremy explored a little further. He found a faint use trail and we decided to follow it up to Pawnee Peak since the weather was fine and no storms were forecasted.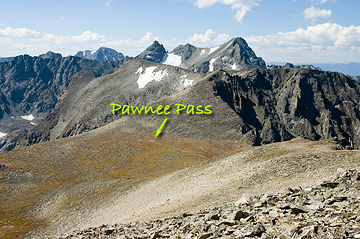 At the summit, we could see Blue Lake to the north and made out a cross country route that connected Blue Lake to Pawnee Pass. That looks like an interesting loop. Looking back at Pawnee Pass, we could see other hikers coming and going. On our way down, clouds began to move in and as we hiked out the last mile, it began to first snow, then rain on us. Pawnee Peak is a very good peak for visitors to attempt.