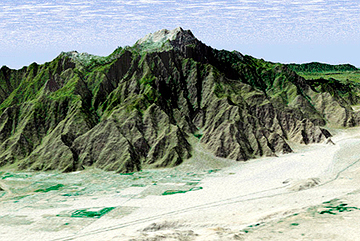 This hike was a training run for an upcoming Sierra trip. We hadn't done San Jacinto before and figured it was a good time to do it - when it was too hot to take the dog anyway (and also because dogs are forbidden in the state park, which another hiker on the trail failed to realize or obey). We left our house at 5 am, an hour later than we had planned, and got our self-registration day use permit at the ranger station in Idyllwild by 7:15. We parked near the Fern Basin campground and started hiking at 7:30. This route is the Marion Mountain Trail which is the shortest and steepest route to San Jacinto. There is a great deal of discrepancy in mileage between the book, the state park map, and the trail signs. In anycase, we rose quickly through the dry, wooded terrain to the Deer Springs trail junction in an hour and 25 minutes (somewhere between 2 and 2.5 miles and approximately 2400 ft gain).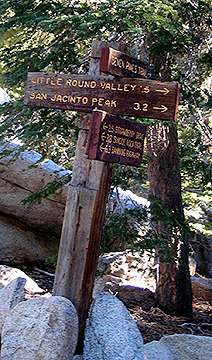 We were still in shade thanks to the tree cover and the eastward approach. Here, the trail mellowed from steep to sort of steep and we waded through manzanita and other thorny bushes growing over the trail. We arrived at the Little Round Valley campground at 10:15 and then followed a lot of well-developed campground trails to nowhere for 15 minutes before we found our trail again. The entire trip was like a mini Sierra hike because the granite boulders and tall pines reminded us of the Sierra. We encountered two groups up until the last 300 feet of the trail where other trails converged. We clambered over boulders to the summit at 11:00 am, where a group of middle-aged "guys" were breaking out their beers to celebrate their tram hike. We took summit photos for the group and then they took summit photos for us - or so we thought. Apparently, beer at elevation makes men even dumber and our well-intentioned, drunken friend never actually took a picture (and he had done it twice for good measure). Well, here's a picture of a nifty hole in a boulder that I was particularly fond of.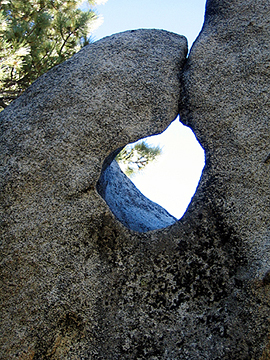 We headed down by 11:20 after some snacks and encountered more folks on their way up to the peak. It started to get warm below 10,000 ft and the annoying flying insects began to buzz about (but not bite) below 8000 ft. We paused to talk with a couple who asked how long it took us and then asked us about hiking Mount Whitney. Other than that, it was all business and we hiked out by 1:45, delighted to see that we had unknowingly parked our car in primo shade! We tended to our sore feet and drove home.