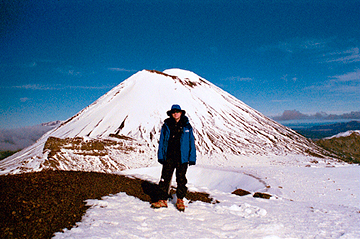 We had a three day window to do the Tongariro Crossing - New Zealands's finest one day walk - and the first day the weather was not good enough for the shuttle to run. As luck would have it, the weather held long enough for us to have a go on the second day. To see more from this day, click here. We began the hike at Mangatepopo Hut in the morning where the shuttle dropped us off. Walking up the rocky trail, we eventually crossed drainages on nice raised wooden walkways while getting our views of the immense Ngauruhoe - the volcano used as Mount Doom in the Lord of the Rings movies. The trail clambered up around volcanic rocks to the ascent of South Crater's western flank.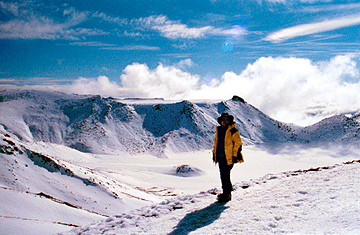 At the saddle between Mount Tongariro and Mount Ngauruhoe, we put on crampons and traversed the flat South Crater. Next we headed north on the ridge leading to Red Crater where the geothermal activity kept the ground warm and free of snow. We had lunch here with the rest of the group.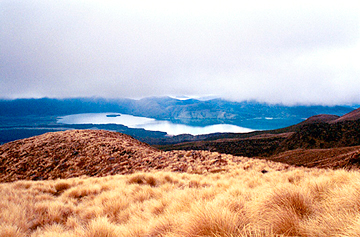 From Red Crater we descended to the eastern edge of Central Crater and watched as the onslaught of clouds engulfed the volcanic massif and eventually us. The way down skirted the slopes of North Crater, but it was mind-numbing as all 20 of us walked single-file on the trail in and out of the arms of the mountain. We took a break at the Ketetahi Hut where tussock dominated the hillslopes and the volcanic peaks and features were merely a recent memory. Sacred (tapu) hot springs steamed in the distance and we continued down through the grassy hills into the dense canopy of the forest for the last couple of kilometers until we emerged at the car park to find our shuttle waiting for us.