The Whites rise above Owens Valley to elevations over 14,000 feet and boast the oldest living trees in the world (ancient bristlecone pines). The landscape is subtle and dry, although decent snowfall occurs in winter. This range is lush by comparison to the Atacama Desert of Chile. From the Whites, one gets amazing views of John Muir's Range of Light.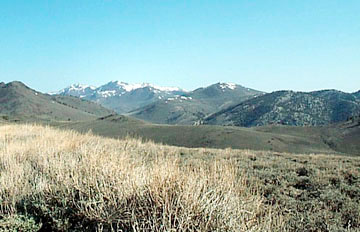 We got to Grandview Campground Friday evening and were pleasantly surprised to see less than half of the sites filled. We watched the sunset over the Eastern Sierra as we set up camp. The air temperature was cool here at 8600 feet (Owens Valley was in the 90s earlier that day). The camp has NO water, but excellent pit toilets and very nice sites in the trees. We brought the dog along to see how she fared camping. The night sky was brilliant and bursting with stars and it was warm enough to leave the rainfly off (probably dropped to 40s F). Kaweah slept comfortably between us, but her doggy dreams and jiggy legs in the middle of the night kept us from getting a decent dosage of REM sleep.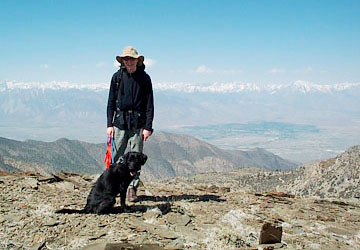 The road north was closed at Schulman Grove, so we parked early Saturday morning at the visitor center parking lot (pay $2/person or $5/vehicle), loaded our packs with water, snacks and clothes (NOTE: there is NO water available in the Whites - bring plenty of your own) and set off on the dirt road leading to Barcroft Laboratory. Here's a view of some nice peaks. We think one of them must be Blanco Mountain. We hiked about 4.5 miles to a nice overlook and gawked at the gorgeous Sierra Nevada. On our way back, we did some cross country exploring and let Kaweah go gonzo on the large patches of snow that were melting under the hot sun. It was getting very warm by mid morning - a little too warm for a black dog.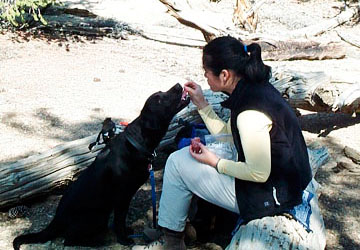 When we got back to Schulman Grove, we looked at the new visitor center and took Kaweah for a short 3-miler through the forest. At the furthest point out, we could peer into Nevada in the east. We didn't run into a single person on the trail until the last 200 yards. Oddly enough - those people we ran into were two friends of ours from Sylmar! We returned to our camp to have some lunch when we came to the agreement that driving the 4.5 hours home so we wouldn't have to sleep with Miss Jiggy Legs in the tent for another night sounded like a good plan. We will return to the Whites, but next time without the pup. She slept the whole way home - she had a wonderful time.