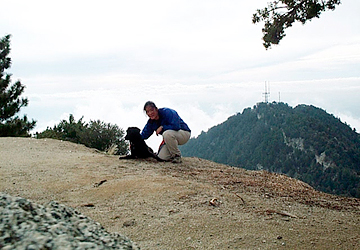 I read that Mount Wilson has more trails leading up to it than any other mountain in the San Gabriels. We've hiked Wilson many times in the past, but never on the Mount Wilson Toll Road. Jeremy was out of town and I wanted to do a long hike that didn't expose the dog to a lot of ticks. Kaweah and I started hiking at 7:30 am from Altadena. The skies were cloudy and the air temperature was in the mid 50s. Above Henninger Flats, the winds picked up and the clouds drifted in an out of the canyons. At the turn off for the helipad, the trail entered forested hillsides and the air felt warmer, though still damp. The fireroad was wide, fast and lined with lush green grasses. We climbed quickly and emerged from the forest to a ridge that would have overlooked the Mount Wilson trail from Sierra Madre except for all of the clouds. Kaweah got a snack, and I munched a zone bar.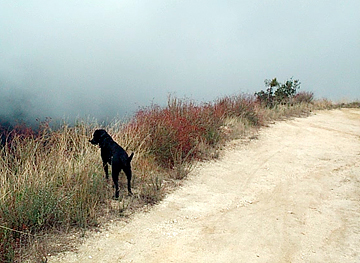 We continued up toward Mount Harvard and skirted the peak. The fireroad was covered with rockfall and other debris in some places. It had great drop off views into Little Santa Anita Canyon. The diffuse sun peeked through a veil of clouds for about 45 minutes and then disappeared for the rest of the day. We passed the junction with the Winter Creek Trail and came to the junction with a spur trail leading up to Mount Wilson. We opted for the spur trail for some variety and popped out onto the summit at 11:00 am.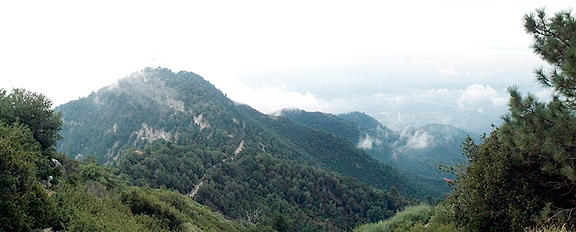 I could see the lower clouds breaking up over the basin below, but they continued to drift into the mountain and it got downright chilly! Pictures, more snacks for Kaweah, a handful of nuts and dried fruit for me, and we were ready to head back at 11:30 am. After finding a tick making its way along Kaweah's back, I opted to head down via the toll road. The last 4 miles were a little hard on my feet and my hands got chilled enough to require my gloves. It felt great to hike out by 2:10 pm. Kaweah slept the rest of the day.