Jeremy and I took a mountaineering safety class in Queenstown, New Zealand in July 2003. Our instructor, Aaron, brought us to the Remarkables for the two-day course. We established base camp on the banks of frozen Lake Alta. You can read about the trip here.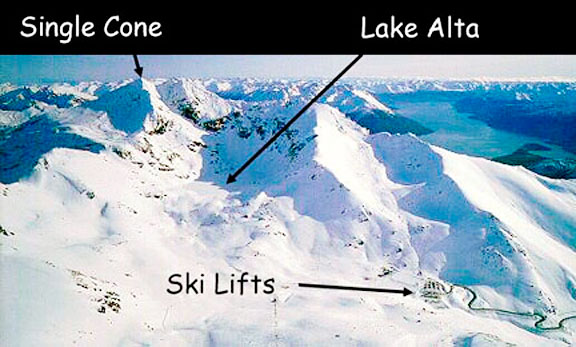 We drove up to the ski lift, hitched a ride on the magic carpet, and then hiked to Lake Alta where we unloaded our gear. We spent some time working with avalanche transceivers, learning about avalanche conditions and rescue, and then using them to find buried transceivers. We paused in between exercises to watch intrepid skiers ragdoll down the steep chutes leading to the bowl. Then we dug snow pits, assessed snowpack conditions (avalanche danger), and learned how to tie in recent weather events to the snow profile and our safety. We chowed down our lunches while chatting with Aaron about all sorts of things. Next was ice axe work and practicing various self-arrest scenarios (bibs are better than pants). When we felt comfortable with self-arrests, Aaron had us dig and build different kinds of snow anchors and test them. We then went back to our packs and dug a snow shelter for the evening. We set up our tents in the shelter and stashed away our gear. We had one more exercise before dinner - abseiling (rapelling in the US). We hiked up to the top of a rock outcrop and put on our harnesses and crampons. Aaron tied us in with prusicks and wanted us to become comfortable abseiling on rock and ice. It began to snow and by nighttime, Aaron had an amazing pot of dinner cooking which I devoured in the tent.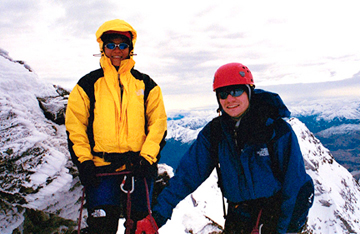 The morning started with diffuse sunlight streaming through high clouds. We began hoofing up toward the south to a bench off the side of Single Cone. Aaron broke trail and described good and bad routes to take depending on terrain and snowpack conditions. From the bench, we ambled up and across to a large outcrop where we put away our trekking poles and got out the hardware. Aaron went ahead and set up anchors and we roped up moving northwest. The next bit was a pitch leading up a near-vertical chute of snow and ice. Once I got to the top of that I was ready to head back. Aaron said, "It's just a bit more - nah nah really, it's just two small pitches." Small pitches can be a relative term, I thought, as Aaron moved on to set up the next anchor. But the next pitch was short and much easier, and the last pitch was like the cherry on top - a few quick steps across a narrow ridge to the summit. Not bad at all! On the way down, we opted for abseiling down the rockface instead of going down the chute we had climbed. Once we were off rope, it was a lot of postholing back down to base camp. We packed up and headed out to the car.