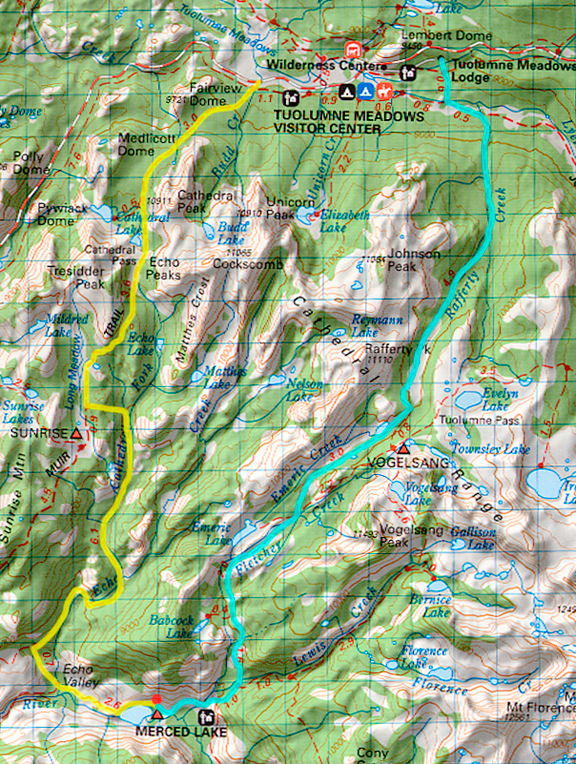 We had secured our backcountry permit the previous day and reserved a campsite in Tuolumne Meadows (the largest campground in the Park Service!) so we could be near the trailhead to get an early start. By the time all of that was taken care of, we had some time to kill - so we drove to Reno to visit the Patagonia Outlet and to see eastern California and western Nevada. We rose before dawn and drove to the Cathedral Lakes trailhead and packed our gear. We parked off the side of the road just like everyone else and put our extra food in the bear boxes they provided at the trailhead. I never quite know where the time goes, but we ended up starting at 7:30 just behind two dudes who were loaded with climbing gear to climb Cathedral Peak. High clouds streaked the sky, but it was otherwise sunny and cool that morning.
The trail is part rocky and part dirt and it rises quickly up to the turn off for Cathedral Lakes. We were traveling faster than usual because we had stripped our packs of many non-essentials like crazy creek chairs, tevas, extra clothes, stove, fuel and cookpot. We had bought some ham and cheese croissants at a bakery and figured this would make a nice dinner requiring no cooking or preparation. Our leftover snacks and powerbars and gatorade from the jaunt to the south would easily supplement lunches, breakfasts and snacks.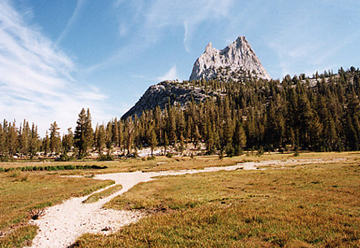 We were making good time and came upon a meadow just before crossing Cathedral Pass at around 9700 feet. Looking in the other direction (to the west) is a dried out muddy lake and what we believe to be Tresidder Peak in the distance. Just beyond this point, we met up with two backpackers who were finishing the John Muir Trail in Yosemite. Most people choose to go from north to south as the passes and peaks get higher and harder, but this couple was taking a nice mellow pace to enjoy the scenery. They were going to Sunrise High Sierra Camp and Cathedral Pass was the last of something like 11 passes on the JMT. They had been hiking for a month.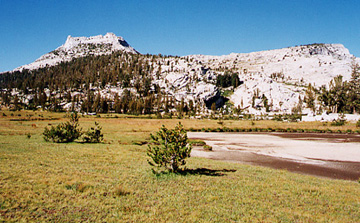 Just beyond Cathedral Pass we came to a nice outcrop affording me a good view to the south. The high country in Yosemite is markedly different from that of the southern Sierra. Rather than the dramatic peaks, sawtooth shapes, pinnacles and cirques, the area was full of rolling domes of granite alternating with gentle meadows. This was a landscape covered in glaciers. To the south, the glaciers did not dominate the higher topography although the terrain is glaciated. Below is a panoramic from near Cathedral Pass.

Before long, we began to descend from the high point. We encountered more backpackers who were hiking out from Sunrise camp. At the junction where we turn off to head for Echo Valley, we stopped to change clothes, have a snack and look at the map. We were making good time, but we were going to have to cut down on the amount of time we spent in conversation with people. The hike along Cathedral Fork was long and boring. The valley was hot and dry and the stream itself was void of water in most places. We had hiked more than four miles from the last junction when we began to wonder if we would come across water soon. We came across a few places with stagnant pools, but decided we weren't desperate enough. Dark thunderheads were building up in the east, but since we were descending into the valley, we were less concerned than on our last trip. Eventually we arrived at running water where the creek flowed in small ribbons over slabs of granite. We stopped to filter water. In the distance, there was a low rumble of thunder even though the sun shone brightly overhead. When we continued on we passed some backpackers headed for the High Sierra Camp (at Lake Merced).
By the next junction, the clouds had caught up with the sun and we were thankfully in their shadows. This also meant that the storm front was close behind. We were hungry but didn't want to stop for a break yet since we were getting close to Lake Merced. When we arrived in Echo Valley, we ate a much needed powerbar, drank a lot of water and put our raincovers on our packs. Valley winds began to blow up valley, which was an indication that the storm would soon be upon us. From Echo Valley we had a short hike up to Merced Lake. Even though we were in a valley, it was still exposed and the rumbles of thunder grew louder and more intense while we climbed up to the next bench. The Merced River (which eventually flows down to beautiful Yosemite Valley) flowed in picturesque sheets over granite slabs. I would liked to have taken a picture except for the rain, wind and lightning raging around us. Once on the bench, we were in the shelter of tall trees that encircled Merced Lake. The lake was also a wonderful sight, but we had our minds on reaching camp and getting shelter.
We were tired, but there is nothing like weather to motivate you to the next destination. The trees opened up around the trail at a parklike area. To the right, a group of white canvas house-like tents were set up like a small village. This was the Lake Merced High Sierra camp. To the left were a couple of bear boxes and cleared camp sites. We headed over to a large white tent at the far end of the camp to ask if there were other backcountry sites around. Just as we were within 10 feet of the tent (general store) hail came pouring down from the sky along with a lot of rain. We stood under the canopy of the entrance while we got our rain jackets out. Water poured off of the tent roofs in sheets. People inside the general store were playing cards and eating snacks - chatting with each other. We asked the store keeper if there were other backcountry sites and he said there weren't. He looked at us like we were vermin (i.e. not a potential source of money). We left for the backcountry campsites and scouted out a semi dry place to set up camp.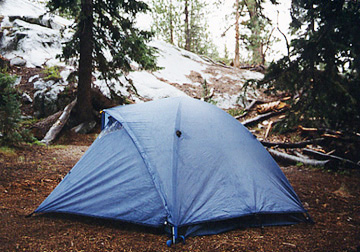 It was 3:10 when we got to camp and we had the option to continue further on, but the rain convinced me it was a good time to stop for the day. Giant pine trees surrounded us and provided shelter from the rain. We set up the tent and began to eat. This backcountry site was very upscale - it had two flush toilets(!!) and a faucet with purified water. We were alone initially, but were later joined by a couple (who had a lot of stuff) and a german couple. By 4:00 the rain had subsided. A ranger came by to check for permits and told us that her roommate got her degree from Cornell (after seeing our address in Ithaca on the permit). She invited us all to the High Sierra campfire talk that evening on wildlife. It sounded great except it was at 8:00 and we were ready to pass out by 6:00. The german couple was very friendly, but a little annoying. They were loud for one thing, and then they started breaking branches off of the trees to build a fire. I know people are allowed to build fires below 10,000 feet - but it's just destructive and stupid. Besides, they didn't need a fire to cook because they had a stove - they just wanted a fire because a lot of people think it is part of the backcountry experience. I could hear branches breaking while I was falling asleep and decided picking a fight wouldn't make anyone happy. By 7:30, the skies cleared up and the sun was setting down valley. We hoped for a dry hike out.
Overcast skies greeted us in the early morning and drizzle was on and off as we packed up our gear. We left camp by 6:30 and began climbing up and out of the valley. The switchbacks rise quickly and we labored to make decent time. Our view improved with elevation and eventually included Half Dome in the distance. The air temperature was warm at first and then the rain started up again and the temperature began to fall by the time we reached Emeric Lake. We only crossed paths with one lone hiker until then. The trail began to level out.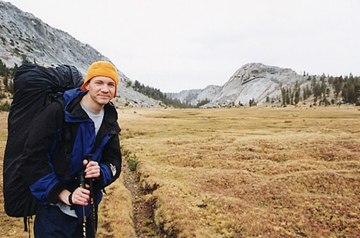 The cloud deck was thick and extensive, but no thunderstorms raged in the sky. It was just a rainy day. The meadows were wide and long, covered in a reddish and yellow grass with a spongy type of ground. Numerous marmots and chipmunks and ground squirrels made their homes here. The meadows were beautiful and we both agreed that this half of the hike was much prettier than the half from the day before.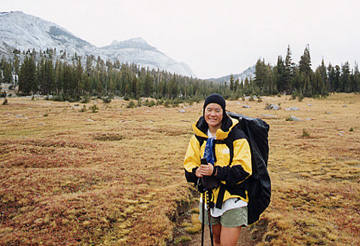 Jeremy took a picture of me with the Cathedral Range in the background. We had left so much gear behind in this trip that our packs could barely sit properly when we had our jackets on.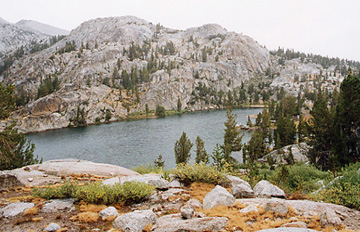 This is a lake we saw as we passed near the base of Vogelsang where there was another High Sierra Camp. Some of the smaller ponds were much smaller than their boundaries indicating the summer was very dry that year. From this point on we began to see a lot of backpackers hiking in to Vogelsang. The trail began to descend alongside Rafferty Creek and it was a gentle grade compared to the day before. It seemed to go on forever.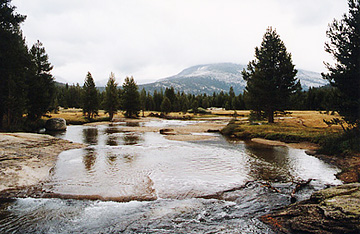 We could tell we were getting closer to civilization (not that we felt we really left it out there) when we began to see trail junction signs. One of the big differences between Yosemite and the southern Sierra is that there are large bridges built at almost every major stream crossing. Here is a picture of the Tuolumne River from one of those bridges. Within a few minutes we had arrived at the Tuolumne Lodge High Sierra Camp - another major eyesore of the Yosemite high country. Just beyond, we hiked out at the Tuolumne Lodge at 2:00 where we waited for a park shuttle to take us back to the Cathedral Lakes trailhead. We had done our goal of a 30+ mile overnight backpack and we felt that 20 miles a day wouldn't be unreasonable. We just needed to modify what we brought in our packs.