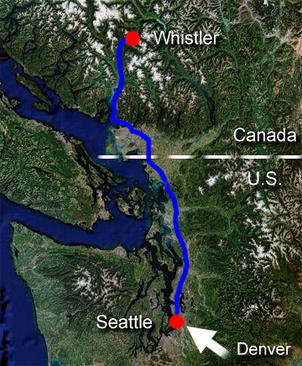 My parents have been time-share crazy ever since they bought one a few years ago. If you've looked at any of our other travel logs, you'll know that time shares aren't our style. But, as a compromise, we agreed to go to Whistler with my parents for a week in the summer. Imagine backpacker meets luxury vacationer and that pretty much sums it up.
Our flight from Denver to Seattle went quickly because I had picked up a copy of Harry Potter and the Deathly Hallows at the bookstore in DIA's terminal C. When we arrived in Seattle at noon, we met up with my parents. Our bags were an hour late getting to us thanks to Alaska Airlines, and we waited a total of two hours for a rental car at Alamo which had employed the two slowest people on the planet. Once on the road we swung by Trader Joes to pick up some groceries and then headed north for the border. It was the first time Jeremy and I had been to Seattle when the weather was cloudy, and perhaps that wasn't a good omen.
At the border we waited 2 hours to travel the 1/2 mile to the crossing and then wound our way through traffic in Vancouver. Eventually we got to the Sea to Sky Highway which has enormous sections under construction for the 2010 winter olympics and made it to Whistler by sunset (9 pm). It was raining and we were all tired, so we dropped by the Marketplace IGA in Whistler Village to pick up some dinner. The Marketplace is very well-stocked and I was able to round up miso paste, tofu, and green onions for a light supper. The time share was nice and we quickly ate dinner and went to bed. Actually, I stayed up for a few more hours to continue reading Harry Potter.